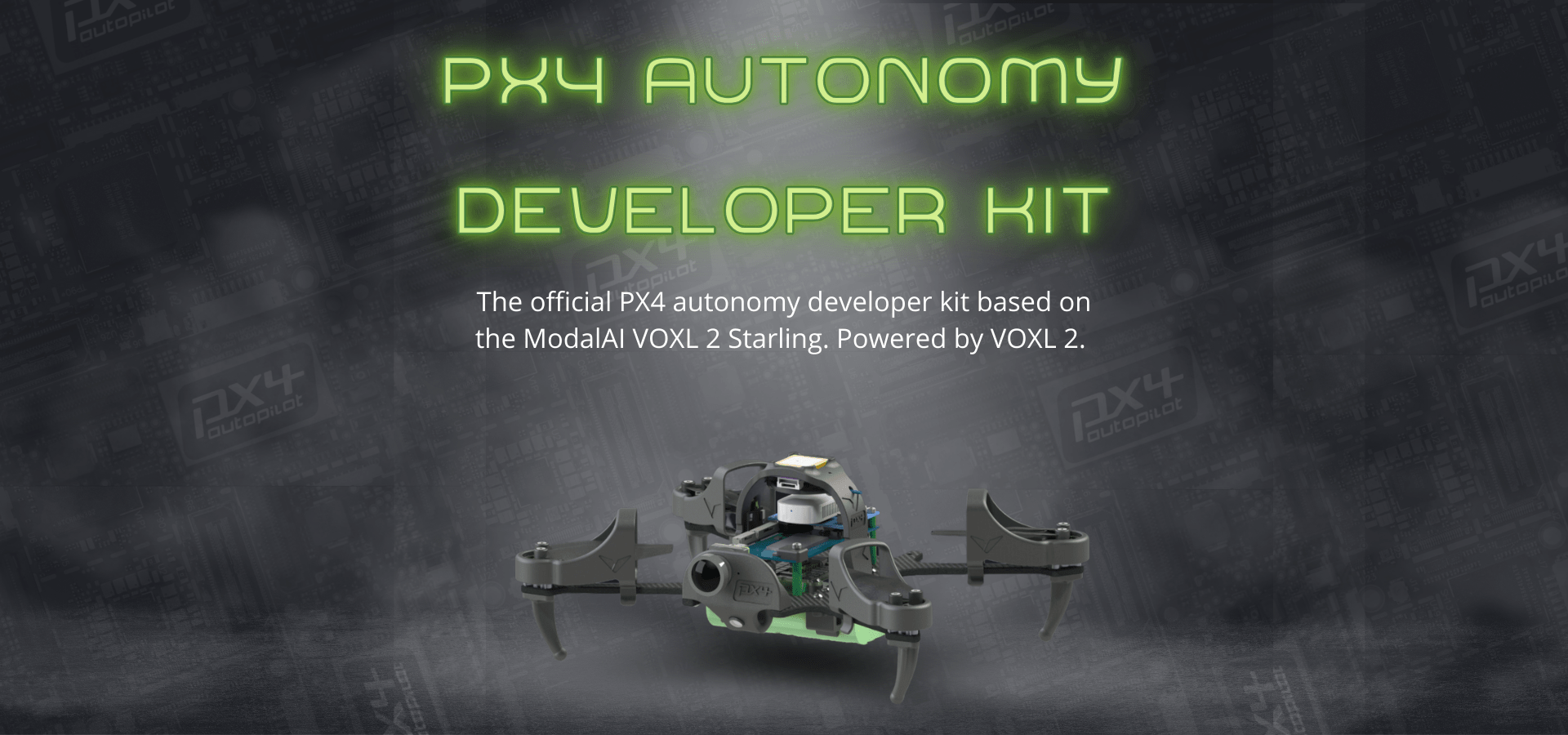 PX4 Autonomy Developer Kit
The ModalAI PX4 Autonomy Developer Kit is an all-in-one autonomy development drone with long-term support for PX4. PX4 developers looking to jump-start their autonomous UAV solution can reduce their time to market with ModalAI PX4 Autonomy Developer Kit's pre-configured autonomy platform, sensors and payloads, and computer vision and artificial intelligence capabilities. Uniform baseline development platform that anyone in the PX4 community can reference and build upon.

Ready to Use Development Tools
Product Specifications
Advanced autonomy

Visual Inertial Odometry to navigate in GPS denied environments

Visual Obstacle Avoidance to fly safely in tight spaces 

3D Mapping and Path Planning to fly hands-off in dynamic environments

TFLite Neural Networks run object classification, detection, and other models

SWAP-optimized 

265g weight 

220mm airframe

126mm folding propellers

30+ minutes flight time

VOXL 2 onboard

Powered by Qualcomm QRB5165: 8 cores up to 3.091GHz, 8GB LPDDR5 

4K hires and CV tracking image sensors onboard 

Open-source software: PX4 integrated flight controller, OpenCV, ROS 2, Docker

Integrated flight controller on DSP 

VOXL SDK
Technical Details
Product Brief, Block Diagram, Starling Comparison Table
User Guide PX4 Autonomy Developer Kit User guide is WIP. Please refer to the Starling user guide to get started. 
What's Included
| | | |
| --- | --- | --- |
| MPN | Description | Price |
| MRB-D0011-4-C20-M22-K0 | Drone Only | $2,749.99 |
| MRB-D0011-4-C20-M22-K1 | Drone with Battery | $2,799.99 |
| MRB-D0011-4-C20-M22-K2 | Drone with Battery and Controller | $3,099.99 |
| MRB-D0011-4-C20-M22-K3 | Drone with Battery, Controller and Case | $3,699.99 |
 Export Information
| | |
| --- | --- |
| Item | Value |
| ECCN | EAR99 |
| Harmonized Tariff Schedule (HTS) Code | 8542.31 |
| Country of Origin | |
| Radio Frequencies Used | |
Technical specifications
Autonomy

Powered by

VOXL 2 companion computer 

Integrated Qualcomm QRB5165 premium tier chipset onboard: 8 cores up to 3.091 GHz, 8GB LPDDR5 
Open-source software: OpenCV, ROS2, Docker, PX4
Integrated WiFi and ELRS

Perception

CV Tracking image sensor for visual inertial odometry (VIO) localization 
4K Hi-Res for real time streaming, RGB image capture and video recording

SWAP-optimized Design

265g take-off weight
220mm diagonal SWaP-optimized carbon fiber airframe 
126mm folding propellers
30+ minutes of flight time
Compare VOXL
Find the right autopilot for you.